[UPDATE Dec 17: Election Results] Sylvan Richards [OBA] has defeated Diallo Rabain [PLP] and Gershwyn "Shiloh" Smith [IND] in C#7 Hamilton South. The incumbent was Darius Tucker [PLP], who won the seat under the UBP's banner in 2007.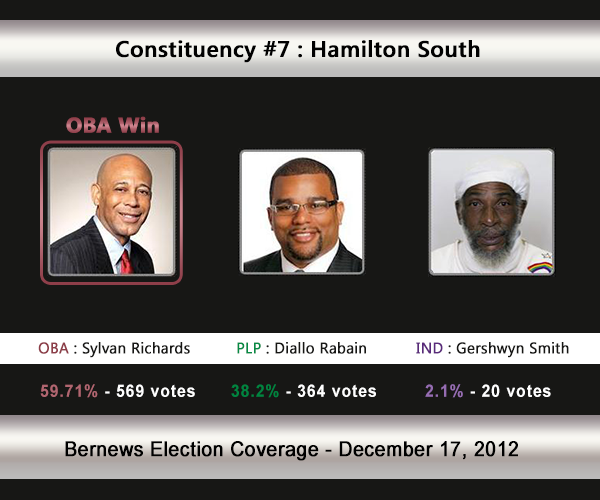 Whoever wins this area will be a new representative for the people of Hamilton South, as the incumbent Darius Tucker [PLP] is now standing in Paget West leaving the PLP's Diallo Rabain to match up against the OBA's Sylvan Richards and Independent Gershwyn Smith.
In the 2007 General Election Mr Tucker — who was then a member of the UBP — won 56.57% of the vote against the PLP's Wayne Caines [547–420]. In the 2003 General Election, Maxwell Burgess [UBP] won with 56.02% of the vote against Lt/Col David Burch [PLP] who received 43.98%.
Areas the Hamilton South constituency compromises of, or is located by, include Harrington Sound Road, Paynters Road, South Road, Spittal Pond Nature Reserve, Harrington Hundreds Road and more.
Diallo Rabain's bio, as provided by the PLP:
Diallo Vincent Rabain is a partner in a Bermudian owned architectural drafting and land surveying company.

For several years he has contributed to the Bermudian community on a voluntary basis. He views his involvement as an active member of the Progressive Labour Party (PLP) as another avenue through which he can serve his country. He was elected Chairman of PLP Constituency 6, Hamilton West and, in November 2011, was appointed a Senator and Junior Minister of Education, Youth, Families & Sport.

Mr. Rabain was born and raised near Harris' Bay and most of his immediate family still lives there. He was educated at Elliot Primary School, Saltus Grammar School and Florida A&M University, graduating in 1995 with a B.Sc. in Electronic Engineering Tech.

He has served on numerous Government and Private Boards, including the Board of Education, The Bermuda Government Scholarship Committee and C.U.R.E. (Commission for Unity and Racial Equality), Road Safety Council and the Architectural Advisory Council. Currently he is a member of the National Training Board (NTB) Awards Committee and a Board Member of The NTB, a member of the Bermuda College Board of Governors and as the Chairman of the Community Service Award for the Annual Outstanding Teen Awards.

Mr. Rabain has just completed serving his second term as the President of Bermuda Chapter of the Alpha Phi Alpha Fraternity, Inc. During his first term in office (2006 – 2008), the local Chapter was honoured by the Fraternity and awarded three consecutive Regional Chapter of the Year awards and two consecutive National Chapter of the Year Awards. Locally, the Chapter operates mentoring programmes for primary, middle, high school and incarcerated young men. Recognized for contributions to the local chapter, he was appointed the International District Director with responsibilities for Alpha Chapters located in London, Germany, South Africa and Liberia.

He volunteers as an executive member of the Harrington Workman's Club (HWC), where he serves as Treasurer and Entertainment Director.

He is married to Letitia Rabain and they have a daughter, Layla Diara Rabain.
-
Sylvan Richards' bio, as provided by the OBA:
Sylvan Richards believes that the OBA has the right chemistry, the right team and the right ideas to get the Bermuda economy back on track and working again, particularly for the many Bermudians who are struggling under current economic pressures.

A key player in the island's re-insurance industry, Sylvan has a deep appreciation of the importance of the international business sector to the future of the island's economy. Having received a Bachelor's of Business Administration degree in Insurance Education at Howard University School of Business, he worked for a number of years in the United States before returning to Bermuda in 1993 where he has been employed at Marsh & McLennan (Bermuda) Ltd., ACE Insurance Company Ltd. and for the past nine years, as an Assistant Vice President at Allied World Assurance Company, Ltd. His vast experience in the insurance sector brings a wealth of knowledge and perspective that is invaluable to any government set on moving Bermuda's business sector forward into the twenty-first century.

Sylvan had his first foray in Bermuda politics in 2010, when he ran under the banner of the Bermuda Democratic Alliance during the by-election in constituency 26, Warwick South Central. Although unsuccessful in that bid, he subsequently decided to join the One Bermuda Alliance for its potential to bring meaningful change to Bermuda.

A man committed to his faith and his family, Sylvan and his wife are the parents of two children and they are active members of the Cornerstone Bible Fellowship. As a Youthnet mentor at Victor Scott Primary, Sylvan has seen first hand the challenges facing many of our youngest citizens and their families.

Sylvan Richards brings a unique combination of business acumen and compassion that will serve the constituents of Hamilton South well in the important years to follow.
-
Constituency boundary map, click to enlarge:
Category: Constituency, Won by the OBA in 2012