[UPDATE Dec 17: Election Results] The incumbent Cole Simons [OBA] has defeated Wayne Perinchief [PLP] and David Tavares [IND].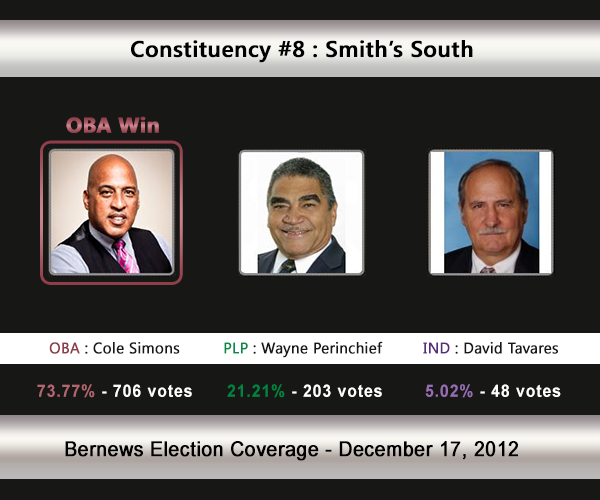 The OBA's Cole Simons — the incumbent — will be challenged by the PLP's Wayne Perinchief and Independent David Tavares.
In the 2007 General Election Mr Simons [as a UBP candidate] won 73.47% of the vote vs the PLP's Jane Correia [673-243]. In the 2003 General Election, Mr Simons won 73.84% of the vote against Elizabeth Christopher [PLP] who received 26.16%.
Areas the Smiths South constituency compromise of, or is located by, include Verdmont Road, Middle Road, North Shore Road, Flatts Bridge, Harrington Sound Road, South Road, Spittal Pond Nature Reserve, Pokiok Road, Morer Estate Road, St. Mark's Road and more.
Wayne Perinchief's bio, as provided by the PLP:
Norris Maxwell Perinchief is the Bermuda Progressive Labour Party's candidate for Constituency 8, Smith's South.

The former Assistant Police Commissioner was first elected to the House of Assembly in November 1998 in the Pembroke West Constituency. He was subsequently re-elected in 2003 and 2007 in Pembroke Central where he presently serves as the representative of the PLP Government. He has previously served as the Minister of Community and Cultural affairs with responsibility for Human Affairs, Consumer Rights, Race Relations and the Office of Seniors and Disabilities. He currently serves as the Minister of National Security.

Wayne Perinchief completed his education at the Berkeley Institute and went on to earn a Bachelor of Arts Degree from Queens University in Ontario, Canada and a Master's Degree in Management and Human Resources from Webster University.

Minister Perinchief has an extensive background in law and order, having served on the Bermuda Police Service from 1964 – 1995 were he reached the rank of Assistant Commissioner for Criminal Investigations. Minister Perinchief received police training from the Federal Bureau of Investigation (FBI) National Academy Quantico, the United Kingdom's Bramshill Police College, the West Yorkshire Metropolitan Police College, and the Ontario Police College. He was awarded the Colonial Police Medal from the Governor for Long Service and Good Conduct in 1982 and again in 1991 for Meritorious Service.

As Minister of Community and Cultural Affairs, he was actively involved in bringing legislation to improve the lives of seniors and the disabled as well as bringing about the fair treatment of consumers, the enforcement of equity, fairness and equality in the workplace through CURE and Workforce Empowerment Laws.

After re-election to the House of Assembly in December 2007, Mr. Perinchief was elected as Deputy Speaker.

On April 4, 2011, Mr. Perinchief assumed responsibility for the Ministry of National Security. In this capacity he is well positioned to recommend and make policy designed to help bring about positive changes in the community.

He has been effective in striking the gentle balance between standing strong for Bermudians and providing an enabling environment for guest workers.

Mr. Perinchief is the father of two sons and one daughter, and the grandfather of six. He enjoys boating, gardening and travelling to the Caribbean. He enjoys his large extended Bermudian family and discussing and debating Politics.
-
Cole Simons' bio, as provided by the OBA:
Cole is an individual who has 30 years experience in Bermuda's Financial Services Industry at a management level. His early career was in the accountancy and underwriting sectors. He was Vice President of Casualty Underwriting at Ivanhoe International Limited and Assistant Manager of Underwriting at GTE Reinsurance Company.

He joined Bank of Bermuda in 1988, starting in the Audit department where he worked on the team that audited Hong Kong and Guernsey. In March 1989 he transferred to Global Fund Services' shareholder services. As an AVP, Cole headed a number of shareholder service teams, which provided quality service to local and international mutual funds and unit trusts. Cole is now a senior member and Director of HSBC Bank Bermuda's Private Banking division.

Cole has degrees in management and business administration from the University of Maryland and Humber College of Applied Art and Technology in Canada. He is an Associate Member of the British Institute of Directors.

Cole has had an active political career previously with the UBP, rising to hold Shadow Ministries for Youth, Sports and Community and Cultural Affairs, Environment and Energy, and most recently for Tourisim and Business Development. He is a director and trustee for a number of arts foundations but also has a passion for equestrian sports, fishing and reading. Cole lives in Smiths Parish with his wife Rochelle and two daughters.
-
Independent David Tavares bio, as provided [PDF here]:
Mr. Tavares is an independent and forward-thinking individual who is committed to help find solutions for a better Bermuda in a competitive global economy. His fields of expertise include banking, finance, insurance and accounting services. He has reengaged in the community with a keen interest in advocacy activities that affect our physical, social and economic environment.

After attending Dellwood School, in 1963 Mr. Tavares went straight to work at the Bank of Butterfield for 37 years. He started as a mail clerk and rose to senior management level. During these years he was afforded the opportunity for further education in management and was seconded to National Westminster Bank in 1974 where he assimilated retail and commercial banking operations. He enrolled in the British Institute of Bankers and other courses relating to principles of banking, law relating to banking, economics and economic geography.

For the past 13 years Mr. Tavares has been self employed operating his own business focusing on small business needs providing management, corporate, insurance and accounting services to a private select group of clients which include trusteeship. He has also provided instructor services to PACE a division of the Bermuda College on finance and accounting, supervisory and management courses through the auspices of America Management Association.

Mr. Tavares is a committed family man and happily married to his wife, Phoebe, for 40 years with an enormous appreciation for his wife and family. He has three children, two sons and a daughter who are productive members of our community. He also has 3 grandchildren, two girls and a boy.

Mr. Tavares, who is a Bermudian, has a remarkably diverse background. He was born in Bermuda, but spent much of his childhood in Jamaica. On his return to Bermuda at the age of nine, he was raised by his grandparents on Dock Hill in Devonshire and later with an aunt in Crawl, Hamilton Parish. At the age of 21years he was literally on his own to plan his future which included his own perspective and evaluation of situations affecting our Bermudian way of life.

In addition to his earlier work in politics and banking Mr. Tavares' past involvement in the community included church affairs. He served as a member of the Stewardship Committee and served as a member of his parish church council and served on the board of governors at Mount St. Agnes.

Mr. Tavares is committed to get involved again to help restore confidence and trust in our government. His business background, along with community involvement and life experiences, have prepared him well to face the challenges ahead and work together as one people striving to restore ethical standards, integrity and transparency while encouraging growth and prosperity opportunities for everyone

Mr. Tavares' interest, first and foremost, is looking out for all Bermudians! Key areas of interest and concerns to address by encouraging select committees are:

Constitutional changes:

Government leader cannot hold a ministerial position in addition the Premiership;
Reduce the number of Parliament members;
The Senate to be an elected body, with the exception of 3 members appointed by the Governor.

Establish a Social and Economic Bill of Rights:

Employment, with a living wage;
Access to meaningful education, "no child left behind";
Affordable health care and housing for everyone.

Economy:

Tourism – focus on hotel bound visitors by increasing air arrivals, growing occupancy during the shoulder season with the objective to get tourism up to a minimum of 20% of GDP;
Reduce dependency on government funded programmes;
Harmonize government employee benefits to be consistent with current economic circumstances.

Public Safety:

Ensure that the police are provided with the necessary funding and full support of the community to restore confidence in their ability to protect our communities.
-
Constituency boundary map, click to enlarge: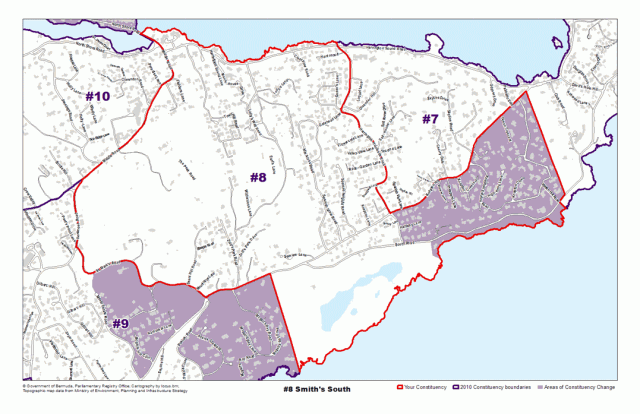 Category: Constituency, Won by the OBA in 2012