[UPDATE Dec 17: Election Results] Incumbent Trevor Moniz [OBA] has retained his seat against Vance Campbell [PLP] in C#9 Smith's West.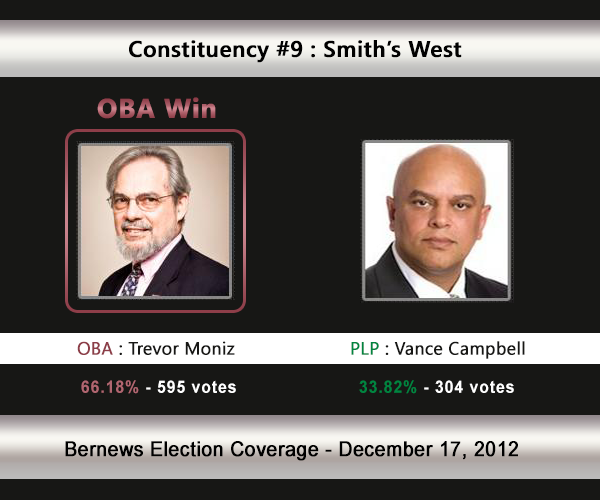 Smith's West will see the incumbent Trevor Moniz [OBA] challenged by the PLP's Vance Campbell. Mr Moniz has held the seat for 19 years, having won it in the 1993 General Election.
In the 2007 General Election Mr Moniz [under the UBP] won 58.50% of the vote vs the PLP's Larry Mussenden [506-357]. In the 2003 General Election, Mr Moniz won with 56.39% of the vote against Scott Simmons [PLP] who received 43.61%.
Areas the Smiths West constituency compromises of, or is located by Middle Road, Verdmont Road, St. Mark's Road, Morer Estate Road, Pokiok Road, Devon Spring Lane, Collectors Hill, Verdmont Road and more.
Vance Campbell's bio, as provided by the PLP:
Vance Campbell is a Certified Public Accountant with over twenty (20) years post qualification experience across a wide spectrum of industries and currently holds the position of Chief Financial Officer with S.A.L. Trading Limited.

He was educated locally at Bishop Spencer School & Saltus Grammar School. He received his university education at Franklin & Marshall College in Pennsylvania, obtaining at Bachelor of Arts Degree in Business Administration, with a Minor in Cultural Anthropology.

As a father, he feels obligated to become involved in the political process that will continue to shape the Bermuda that our children inherit. His education and business background, along with community involvement and life experiences, have prepared him well for this step.

He is currently the Chairperson of the Consumer Affairs Board and a Trustee of the Bermuda Housing Trust. His tenure as the General Manager of the Bermuda Housing Corporation during 2003-2006 is a testament to his leadership skills and ability to function well in a climate of extreme media scrutiny and intense public interest.

Through involvement in community based organizations he has had the opportunity to, directly and indirectly, positively impact the lives of many young people and seniors. Under his leadership the Bermuda Housing Corporation was able to successfully emerge from the most challenging period in its history whilst completing several small projects, developing the plans for the Perimeter Lane Housing Complex and stepping up its maintenance programme with a view to improving the appearance and condition of its rental units throughout the Island. The Corporation also worked closely with the police regarding the problem of anti-social and illegal activities within some of its housing units.

His roles with various charitable and community based organizations have kept him in touch with the everyday challenges facing the teens, families and seniors of today's Bermuda. He is the Vice President of the Foster Parents' Association, a former Club Leader and current Committee Member with Young Life Bermuda, an Executive Member of the Youth Committee of Young Men's Social Club and also a Member of
the Management Committee at that Club.

He is married to Viviana and enjoys spending time with his family, traveling and sports.
-
 Trevor Moniz's bio, as provided by the OBA:
Trevor is the representative for Constituency #9, Smith's West. During his years in the House of Assembly, Trevor has often taken up unpopular causes.

He was intimately involved in the only three successful private members' bills since party politics began in 1968. He moved the amendment that permitted Dr. John Stubbs' 1994 Criminal Code Amendment Bill to pass, decriminalising homosexual behaviour, and was a drafter and promoter with four other MPs of the Prohibited Restaurants Act 1997, outlawing fast food franchises. Trevor also drafted and moved the Charities Amendment Act 1998, which opened the accounts of registered charities to public inspection.

Trevor has worked tirelessly to create a Members' Register of Interests, and campaigned against independence for Bermuda during the 1995 referendum.

Voters in Smith's West can expect Trevor to continue to act according to his conscience, often on behalf of groups that do not have a political voice.

He attended Saltus Grammar School, and later studied law at King's College, London, on Bermuda Government scholarships. He was called to the Bar in England and Wales in 1976, and to the Bermuda Bar in 1977, still just 22. He was awarded a Commonwealth Scholarship and attended the University of Toronto, graduating with a Diploma in Business Administration.

Trevor returned to Bermuda in 1980, and established his own law practice two years later.

He was elected to the House of Assembly in 1993.
Trevor spends his free time with his four children
-
Constituency boundary map, click to enlarge: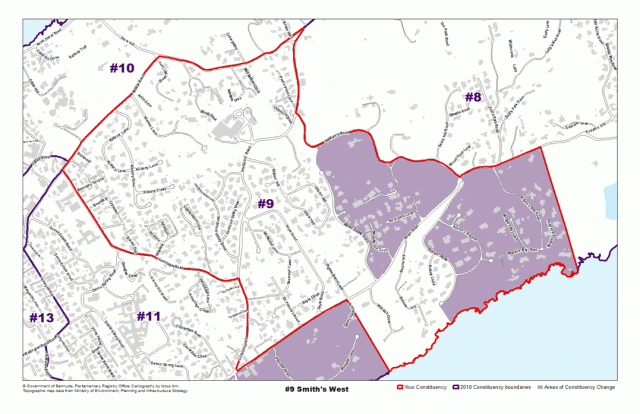 Category: Constituency, Won by the OBA in 2012